BROWN GIRL Jane - their ecommerce story
BROWN GIRL Jane is a wellness and beauty brand founded by three African American women, describing itself as "a luxury wellness and beauty company specializing in plant-based CBD products for women of color".
Malaika Jones, Founder and CEO since Feb 2019. Jones has a background in finance (JP Morgan Chase) and investment (J Group Advisors) and has studied at Harvard Business School.
Tai Beauchamp, Co-Founder and Chief Brand Officer since April 2020. Beauchamp has a background in fitness and beauty publishing and online publishing
Nia Jones, Co-Founder and Chief Impact Officer since November 2019. Jones has a background in recruitment, diversity and inclusion and corporate philanthropy. She has a Masters degree in Fundraising and Grantmaking from New York University.
All three are graduates of Spelman College in Atlanta, GA. Jones and Jones are sisters.

BROWN GIRL Jane ecommerce website is built on the technology of, and hosted by, Wix, (NASDAQ: Wix), a member of our ecommerce platform shortlist. At time of writing there are ten SKUs (stock keeping units, i.e. products) sold on the website, with a selling price of between $52 and $192, offering domestic shipping only, being processed within 3 business days, with a free shipping and a priority shipping ($15 supplement) service, and offering replacement or store credit for items where the bottle or packaging is defective or damaged. 
Gift cards are sold, processed within an iFrame loading pages from Stripe, a payment processor commonly used by starting and low volume businesses.
In a Wix.com YouTube commercial, screenshots of BROWN GIRL Jane ecommerce traffic analytics is featured. This shows, for the period August 29th, 2020 to November 26th, 2020, an approximately three month period of 95 days, the following statistics:
65,066 site sessions (assume this is Visits)
51,050 unique visitors
31 minutes 51 seconds visit duration

A graph of traffic over this period shows two notable spikes in September 2020, but a consistent baseline traffic volume of around 400-500 visits per day.

The commercial is promoting the ecommerce capabilities of Wix and claims revenue of $160,000 per month, although it is unclear whether this is a peak or an average month. For an average month of 500 visits per day (15,000 visits per month) and assuming a conversion rate of 2% and an average order value of $100, this would translate into revenue of $30,000 per month. This seems reasonable to equate to the claimed $160,000 for the peak month of September 2020 (a 5.3x volume during that peak).
Figures for referring sites and traffic by location are also shown.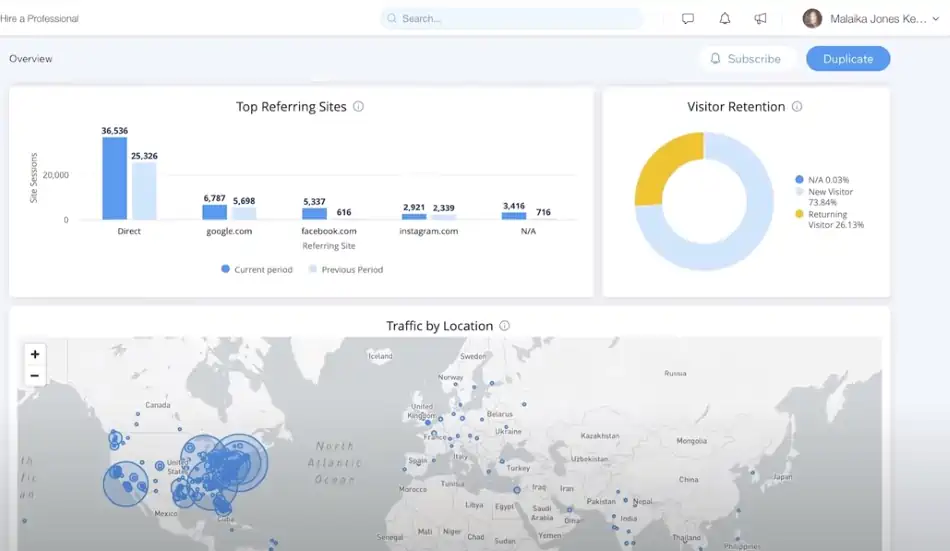 Concluding thoughts
Regardless of the merits, success or operation of the BROWN GIRL Jane brand, the Wix commercial aims to encourage small merchants to sell using the Wix ecommerce technology. It risks overstating the potential financial rewards of doing so and downplaying the obvious business and intellectual strengths of the BROWN GIRL Jane management team which have no doubt contributed to their laudable success. Wix should be careful to ensure the right balance between promoting the strengths of their technology and the capabilities of the women behind the BROWN GIRL Jane brand.