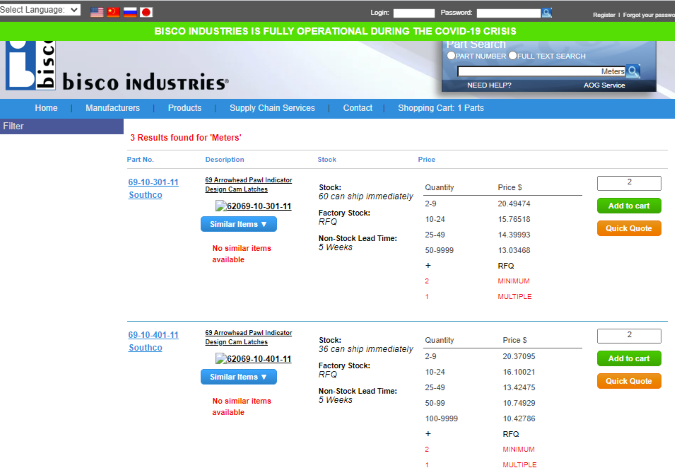 News - VTEX announces bisco client win
September 9th, 2020. VTEX, a member of our ecommerce platform shortlist, announced it has been selected by bisco industries (electronic components and fasteners serving customers in aerospace, electronics and hi-tech sectors) as its new B2B ecommerce platform and this is live for both B2B and marketplace function, providing ecommerce capabilities to support the efforts of 400 sales managers. The announcement claims marketplace will support 4m products and 60,000 product attributes in the catalog, with integration and visibility of supplier pricing and inventory levels.
Even at a very quick glance, the bisco industries website appears to have some serious user experience issues
Example user experience issues include:
Product catalog can be explored by popular manufacturer, but to get a full list requires download of a static PDF
Faceted navigation shows size attributes in descending order of popularity rather than size order
Missing images for some product categories and products
A "similar items" link is provided even for products when no suggested similar products are available
Search does not allow for mispellings 
Product recommendations are shown as a popup rather than inline in page
Address completion error messages are shown inconsistently, as popups or in line with address fields
It is unclear if the current website is waiting for the upgrade or is the result of the implementation of the VTEX platform.