eCommerce Order Management Systems - Functionality and Software Platforms
Order management software
eCommerce order management software supports the business processes by which customer orders, captured through an ecommerce channel, are managed through to fulfillment. A dedicated order management system (OMS), also called a distributed order management (DOM) system, is typically used by an ecommerce business once it has reached a certain size or level of complexity.
Read more: eCommerce Order Management Processes
OMS functionality
The principal functions of an OMS are:
Provide a consolidated, central view of inventory across all locations (such as warehouses, stores and suppliers)
Enable selling systems to quickly query that inventory and its availability to sell, also called Available To Promise (ATP).
Collect customer orders from those selling systems (e.g. website, App, orders collected in store).
Route orders to fulfillment nodes in the supply chain network according to a set of rules designed to ensure accuracy, timeliness, low cost to serve.
Provide a user interface for retail store associates to use to process orders that must be picked from store stock, either for collection (buy online, pick-up in-store - BOPIS) or for shipping.
Update inventory counts in remote systems as orders are received and allocated to fulfillment nodes
Provide user interfaces for fulfillment and customer services staff to query, update and process orders.
Provide a reporting and alerting suite to support management of the end-to-end order lifecycle, issue resolution and forward planning.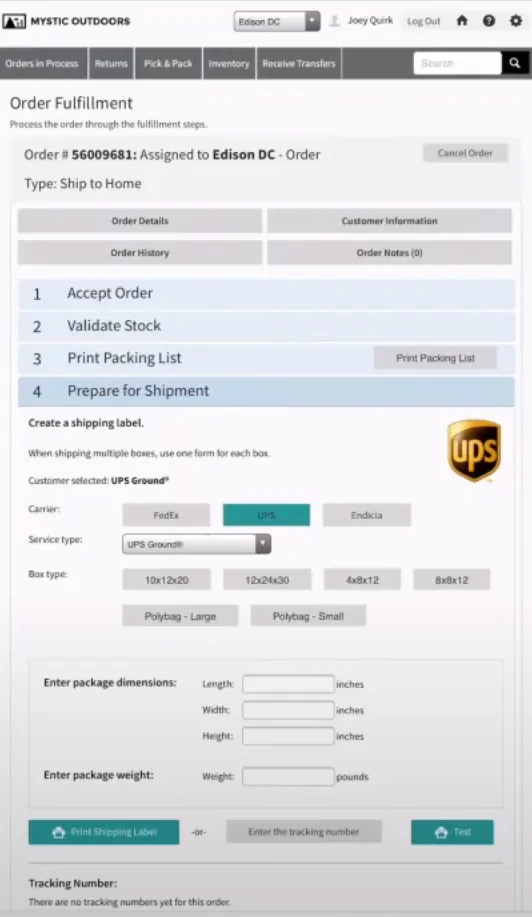 When do you need an OMS?
A dedicated order management system is typically considered by a business when some or all of the following factors are true. In these cases, an OMS can help to control the complexity of your operations and reduce the cost of routing and fulfilling customer orders.
There are multiple sales channels through which orders are captured
There are multiple options for fulfillment of an order (e.g. where inventory resides in one or more warehouses, and stores, and at suppliers)
Your customer proposition includes pre-orders and/or back orders, implying orders must be held somewhere for some time before the stock becomes available
You are subject to markdowns in your retail stores which could be avoided by selling that stock online
You want to enable online sales to be returned to a brick and mortar store for exchange, or refund
You have a dedicated full service customer services team that is able to help customers adjust order shipment dates, delivery addresses, etc.
You offer a variety of shipping methods and service levels through multiple carriers 
OMS software vendor shortlist
There are many software vendors for distributed order management systems, here is a starting point for your shortlist.
Adobe - Magento Order Management
The Magento Order Management system is a separate product to their ecommerce platform. It contains support for inventory tracking across multiple locations, multi-address orders, BOPIS and some basic sourcing / routing logic. The vast majority of users of Magento Order Management also use Magento as their ecommerce platform.
Aptos - Enterprise Order Management
Aptos, a retail software company based in Atlanta, GA, offers Enterprise Order Management alongside a broad range of retail software such as merchandising and supply chain systems. Their application provides basic order management capabilities and integrations with marketplaces such as Amazon, Buy.com and eBay.
Deck Commerce
Deck Commerce, founded in 2015 by Chris Deck, and operating out of St Louis, MO, is focused solely on order management software. Customers include Build-A-Bear, Netgear, New Balance, Rawlings.
enVista - Order Management System
enVista, a retail, commerce and supply chain software and services company based in Carmel, IN, offers an order management system and store fulfillment solution as part of its suite of applications. 
Fluent Commerce
Fluent Commerce is a software business dedicated to order management, founded in 2013, with several former hybris (now SAP Commerce Cloud) executives at the helm, including CEO Graham Jackson. It is based in Sydney, Australia but with customers globally.
Freestyle Solutions - Multichannel Order Manager
Freestyle Solutions provides its Multichannel Order Manager (MOM) software product as a cloud service to "thousands" of small and mid-sized businesses, with pre-built integrations for ecommerce platforms such as BigCommerce, Magento and Shopify.
IBM - Sterling Order Management
IBM, one of the world's largest software companies, has long offered its Sterling Order Management application, arguably the most complex enterprise order management system in the market. The platform is huge, complex, and challenging to implement, but offers a wealth of features and functions, and with expert implementation services can support operations in even the most complex of supply chains.
ID Logistics
ID Logistics is a European contract logistics business based near Avignon, France, that offers its customers warehousing and fulfillment services. It acquired Jagged Peak and its order management software business in December 2019, which at the time was worth $80m generated by a team of 200.
Infor - Networked Order Management
As of time of writing, Infor has exited the standalone order management business.
Infor, the ERP vendor, acquired the former Aroma order management solution of German ecommerce services business Arvato Systems in Feb 2018. According to an SEC filing in June 2019, Infor paid $27.9m for this software, plus performance-related payment of $26.9m contingent on performance through 2022. 
Kibo Commerce - Kibo Order Management System
Kibo Commerce, a member of our ecommerce platform shortlist, also provides an order management system. While Kibo acquired Shopatron in 2015, the software has since been entirely rewritten and Kibo has several customers using its OMS software without its ecommerce platform. It is an API-first solution.
Manhattan Associates - Manhattan Active Omni
Manhattan Associates is best known for its warehouse management system (WMS) and supply chain solutions, but has also long been a supplier of distributed order management (DOM) software. Manhattan Active Omni is its latest incarnation of OMS, a highly scalable, cloud-native, versionless, microservices application, used by large enterprises such as Lacoste, Petsmart and Under Armor. Sanjeev Siotia, formerly of Yantra, then Sterling Commerce and then IBM, both through acquisitions, was responsible for the vision for this new OMS solution, after joining Manhattan Associates in 2014 where he is currently SVP, CTO. The solution is particularly strong in optimizing cost to serve orders across a complex supply chain, and includes warehouse, store and supplier fulfillment options, store inventory management and even point of sale (POS). Manhattan Associates is headquartered in Atlanta, GA.
Mi9 Retail - Mi9 Unified Order Management System
Mi9 Retail is a Miami, FL based retail software company with a focus on solutions covering merchandising, store operations, customer engagement and analytics. Its Unified Order Management System product consolidates orders from digital sales channels, stores, marketplaces and B2B customers.
NewStore - Order Management
NewStore, founded in 2015 by former Demandware founder and CEO Stephan Schambach, and based in Boston, is an iOS-based retail store management application which includes order management functionality, including ship-from-store features.
Oracle - Oracle Fusion Cloud Order Management
Oracle has an extremely confusing product lineup in most categories, including order management. Their order management offering includes Oracle Global Order Promising Cloud Service.
Orckestra - Omnichannel Order Management
Orckestra is owned by mdf commerce (mediagriff) and provides B2C and B2B ecommerce and order management capabilities. 
Proximis - Distributed Order Manager
Proximis, a French retail and ecommerce software business founded in 2013, provides order management as part of its overall suite of applications.
Salesforce - Salesforce Commerce Order Management
Salesforce Commerce Order Management is a relatively simple order management system that is primarily designed to cope with orders from a single B2C ecommerce channel and limited variation in fulfillment nodes.
Tecsys - Distributed Order Management Solution
Tecsys, the Canadian supply chain management software business founded in 1983, acquired the order management software business OrderDynamics in 2018. Order management as a software solution sits alongside the company's warehouse, distribution and transport systems.
Wynd - Omnichannel Logistics
Wynd, the European omnichannel retail software business founded on the banks of the Seine in Paris, France in 2014, provides its Omnichannel Logistics SaaS solution for order management alongside wider commerce solutions such as Product Information Management, Point Of Sale and digital retail / ecommerce platform. Its customers include Carrefour, Galeries Lafayette, Crate & Barrel and Sodexo.