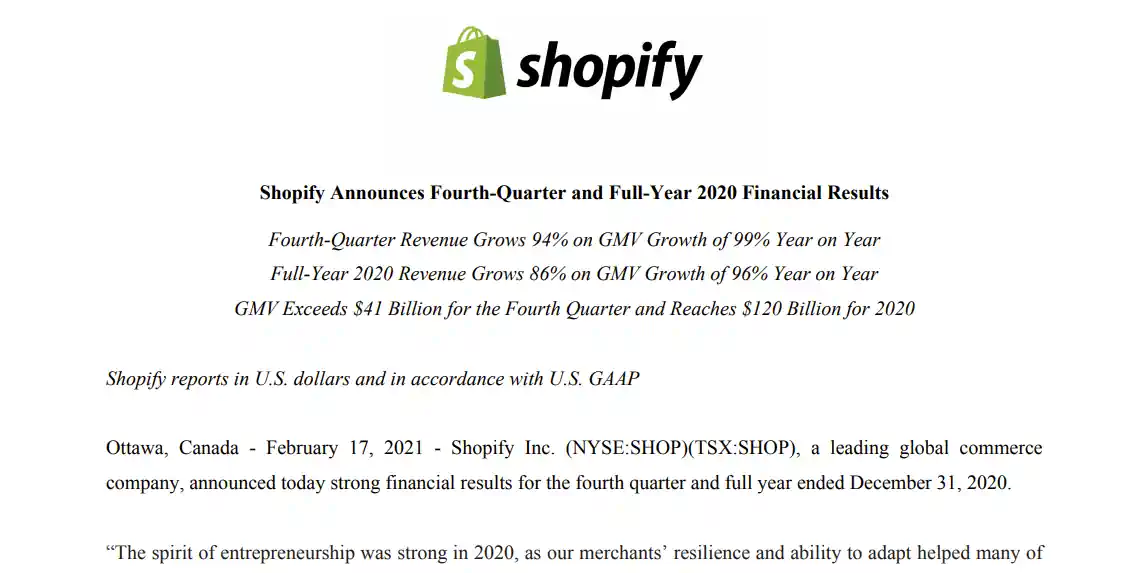 Shopify reports $2.9bn full year results 2020
February 17th, 2021. Shopify (NYSE : SHOP) has released its 2020 Q4 and full year financial results, with a staggering $977.7m revenue in Q4, up 94% from Q4 2019, for a 2020 total revenue of $2,929.5m, up 86% on 2019.
Its customers transacted $41.1bn through the platform in Q4, implying Shopify received 2.4% of the gross merchandise value (GMV) sold.
Adjusted net income (profit) for 2020 was $491.3m, a significant jump on the $34.4m in 2019. The current market capitalization of $168bn is 342x the profit figure hinting that investors believe there is a lot of growth still left in the company.
Plans for 2021 include focusing on growing its Shopify Fulfillment Network, their Shop App, expanding its international localizations, extending its POS solution, and targeting larger, more complex customers' needs by continuing to develop its Shopify Plus solution.
Shopify is a member of our ecommerce platform shortlist in the "Growing" category.
Article: What exactly does Shopify do? explains the activities and revenue streams of this business.