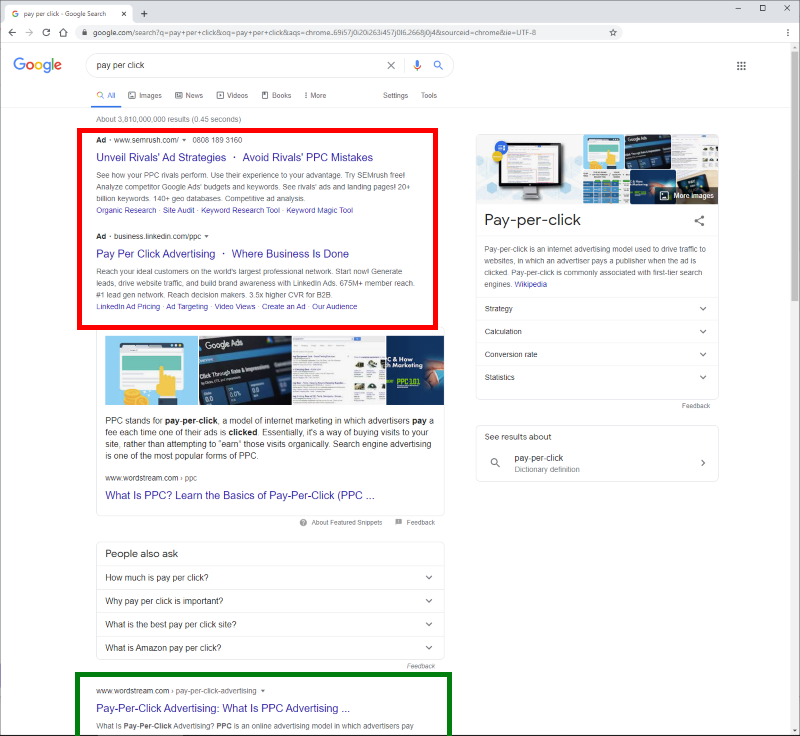 What are ecommerce channels?
An "ecommerce channel" is a route through which an ecommerce business sells or promotes its goods and services to its customers. Sales channels are those in which a customer may select and pay for goods and services. The ecommerce website is an ecommerce sales channel, as is the mobile App. Marketing channels are used for promotion of a business, for example pay-per-click advertising (paying to have your website featured in a search engine's search results) is an example of an ecommerce marketing channel.
Retail makes use of many sales and marketing channels beyond ecommerce. A physical retail store is a sales channel, as is a contact center where orders are placed over the phone with a sales agent, whereas outdoor media (such as billboards) is an example of a marketing channel.
eCommerce Sales Channels
There are several ecommerce sales channels. For most businesses, the primary ecommerce sales channel is the website, the other channels being a mobile App, ecommerce marketplaces, EDI and white label websites. Social shopping, including live stream shopping, is an emerging and growing area of interest.
1. eCommerce website
The most common form of ecommerce sales channel is the ecommerce website, very familiar to everyone as a website on which a customer can view product information and place an order. This includes both B2C and B2B ecommerce websites.
2. Mobile App
A mobile App is another common ecommerce sales channel, which has a similar function to the website, but is installed and then accessed as an App on a customer's mobile device (smartphone or tablet). Many businesses' Apps appear and operate in a very similar way to their ecommerce website.
3. Marketplace
When a business sells individual products to customers through a third party website this is called marketplace sales. For example, Amazon operates as a marketplace, allowing retailers to sell individual products on their website either handling the fulfillment of the orders or passing them back to the retailer for fulfillment. This channel is different to the concept of wholesale, where a brand sells a bulk quantity of a product to a retailer that the retailer can then sell in individual units to a consumer. Amazon is also a retailer and therefore buys product wholesale in this way, but its marketplace business is a larger than its retail business.
4. EDI
Electronic data interchange (EDI) is a method through which two businesses agree to pass information between them in order to transact orders between systems they each control. By placing orders electronically, the human effort involved in creating an ecommerce order is removed. For example a manufacturer's system might use EDI to transmit automatically a re-order request for a raw material when inventory becomes low at one of its plants.
5. White label website
A "white label" website is one that is constructed and operated by a business on behalf of a corporate customer and designed to match the customer's brand, not its own. For example a cellphone distributor can offer to set up and run a website for a retailer who wants to offer cellphones to its customers without the operational complexity inherent in doing so. The distributor charges a commission to the retailer for running the website and the retailer provides the service to its customers, branded as if it were being operated by that retailer. By creating largely cookie cutter websites for each retailer, the distributor in this example is able to gain economies of scale and the additional business generated by these new customers. The white label website is an example of B2B2C commerce.
6. Social and Live Stream Shopping
Many retailers are experimenting with selling products directly from social networking sites and Apps, including Facebook, Instagram and TikTok. Many ecommerce platforms (BigCommerce and Shopify as examples) include integrations to these social networking Apps to enable this.
Live stream shopping is an ecommerce channel where influencers with a strong social media following perform live shows to their audiences to promote products that viewers can buy from within the live stream App. 
Article: Live Stream Shopping - Why it is Important and How to Get Started
eCommerce Marketing Channels
Another term often used in ecommerce is "marketing channel" or "digital marketing channel". A marketing channel is a route through which a business drives demand for its products and services by communicating with customers and prospective customers. Traditional examples include TV, radio, print media (e.g. newspaper advertising) and direct mail. eCommerce (or digital) marketing channels are channels that are online or electronic in nature and therefore lend themselves well to promoting ecommerce sales.
1. Email Marketing
The most common ecommerce marketing channel is email marketing, as it is simple and very low cost. Over 300 billion emails are sent worldwide every day, the vast majority of which are marketing, spam and other business emails. Travelocity alone sends 3 billion emails per year. To send marketing emails, a business must contract with an Email Service Provider (ESP), if only to avoid limits on number of emails that can be sent with other services, for example Google restricts Gmail users to sending 500 emails per day.
Popular choices of email service provider range from Campaign Monitor and Mailchimp for small businesses up to Adobe Marketing Cloud and Salesforce Marketing Cloud for large enterprises.
2. Pay Per Click Marketing
Pay Per Click (PPC) is a marketing channel in which a business places concise advertisements in high traffic web properties and payment is due to that website owner each time a visitor both sees and clicks on that advertisement. Google and other search engines provide opportunities for businesses to "bid" for keywords and promote their content and products within the search results. In the example below, the red box highlights PPC adverts, the green box the organic results.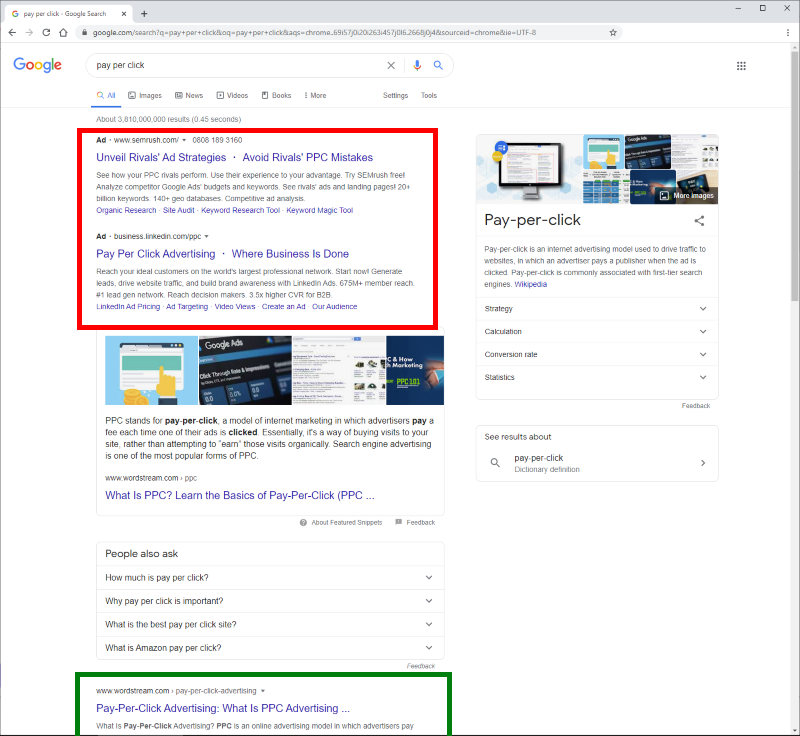 3. Banner Advertising
The banner advertising marketing channel involves a business paying to place a marketing image on a website that receives traffic from the types of people it wishes to attract as customers. For example a cosmetics company may pay to show a marketing image on a popular website that describes makeup tips and techniques. When a visitor clicks on the banner, they are redirected to a so-called "landing page" on the website of the company that is advertising.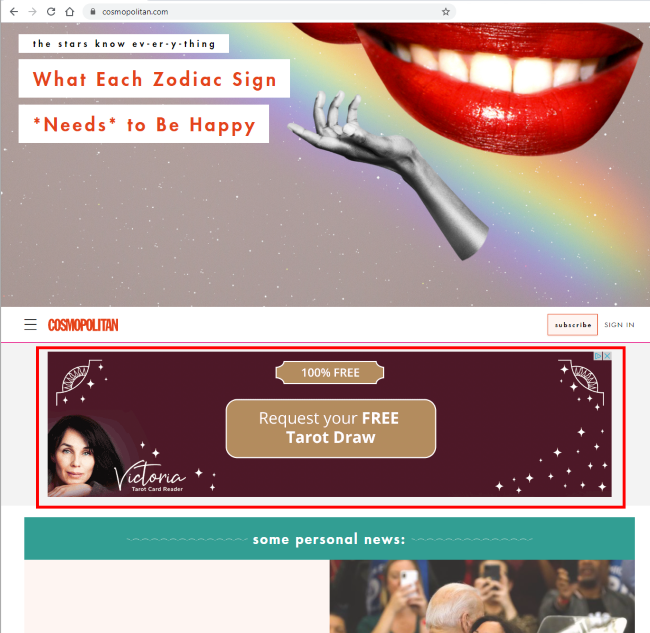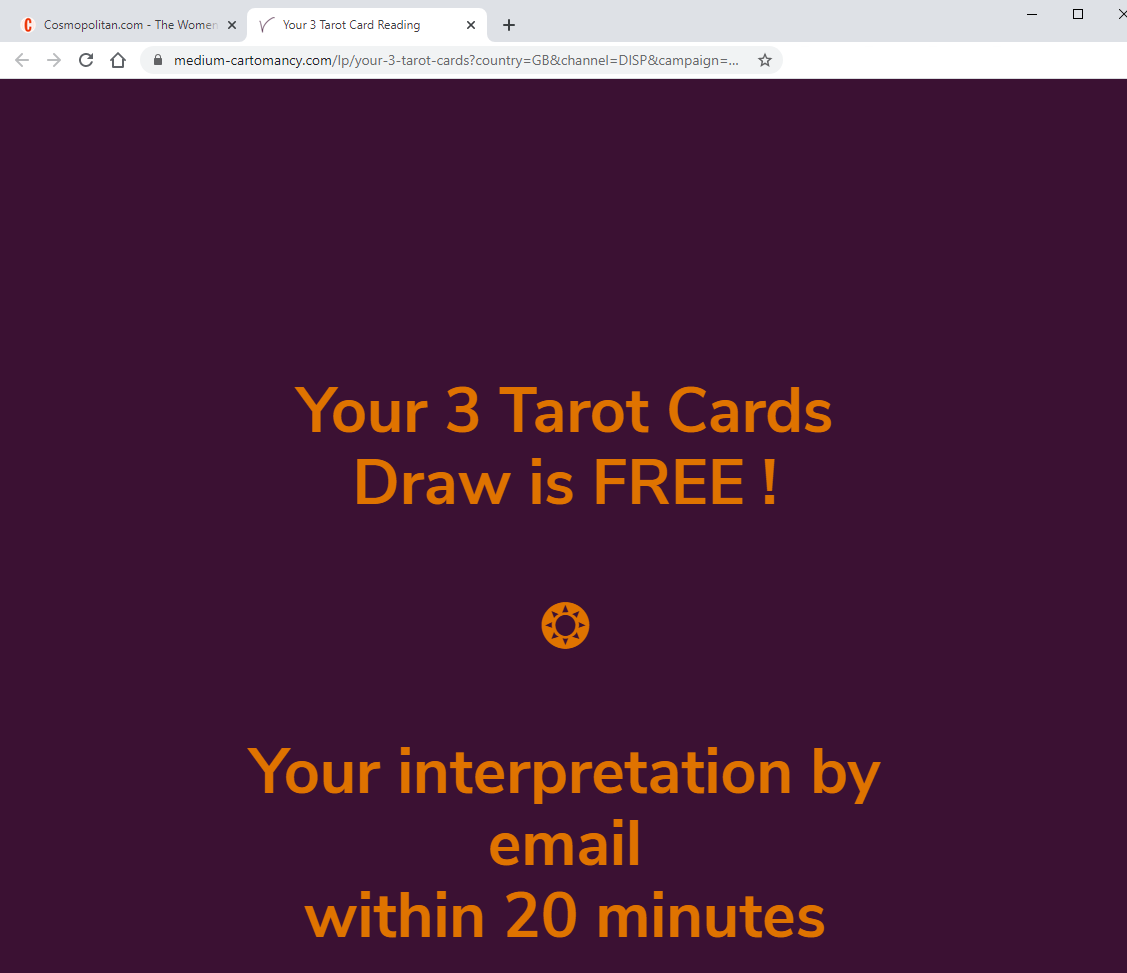 Banner advertising is a relatively simple method of promoting a business, albeit one where it is easy to spend money without making a clear return. A business must track conversion rates of traffic from each website and from each banner in order to refine where, when and what it shows. Another issue with banner advertising is widespread use of ad blocking software and browser plug-ins which prevent banners being shown. While the number of people using ad blocking software is unknowable, it is clearly a significant percentage of all Internet users.
4. Content Marketing
Producing high quality, informative or entertaining content as a means to promote a business is called content marketing. Content is useful for encouraging website visitors to buy, i.e. improving conversion rate, as well as to spend more time on the website and return more frequently. Good content encourages people to view a company as more trustworthy and more authoritative in a field and are therefore more likely to accept their recommendations and to buy from them. Content marketing is not the same as simply writing about a product. Content marketing focuses on positioning the business as an expert in their sector, for example by producing informative how-to guides, care instructions, expert reviews of products, or lifestyle information that relates to situations in which the products they sell are useful.
5. Search Engine Optimization (SEO) Marketing
Publishing content on a business's website can help with improving its visibility in search engine results, in particular in the billions of searches (Source: Google Blog, Oct 2019) conducted on Google every day, of which 15% have never been searched for before. However, improving the ranking of that content on Google and other search engines is an art and science in its own right, one that is called search engine optimization. Google takes into account a vast array of data in its algorithms used to present search results for any given query. Ranking as high as possible in those results for the search terms that your prospective customers will be searching is the ultimate goal of SEO.
6. Social Marketing
Social marketing refers to unpaid marketing activities a business conducts on social media networks such as Facebook, Twitter, YouTube, Instagram, Pinterest, Snapchat, TikTok or LinkedIn. Social networks are chosen that work most effectively for a business's product and its customers. Social media usage outside the US varies tremendously and reaching international audiences demands additional care. 
As an example, at time of writing, Saks 5th Avenue on Facebook had 1.2 million "likes". When it posts content to this page, potentially this many people are notified.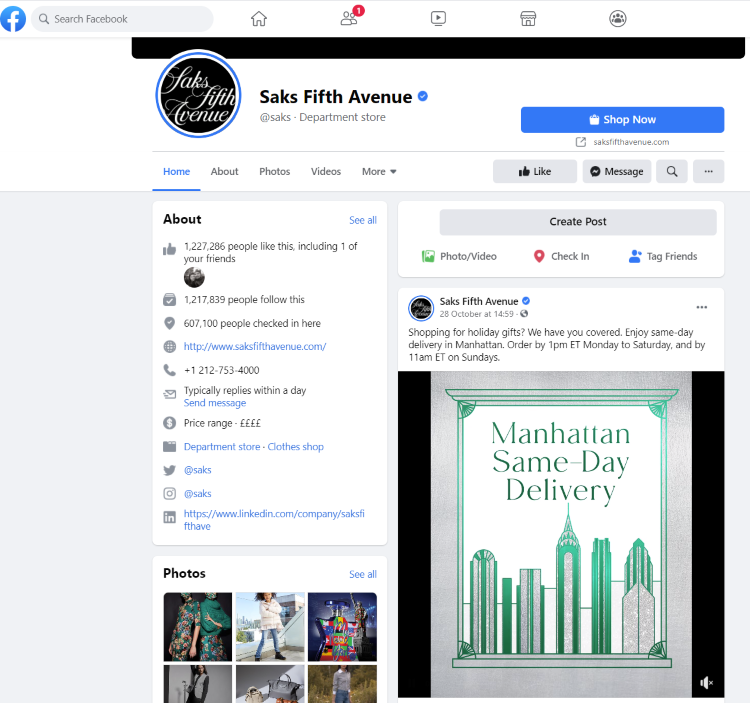 7. Influencer Marketing
Whereas social marketing relies on the word-of-mouth of ordinary customers, influencer marketing seeks to promote a business through people with an established fan base and widespread appeal. An influencer can be a major celebrity (e.g. a TV personality, sports star or well-known musician), or people whose social media activities are known to a smaller but no less passionate audience in a specific niche, for example owners of YouTube channels, Instagram accounts, TikTok creators and so on. Influencers are paid (or provided with free products) in return for talking about those products on their social channels, thereby promoting them to their followers. In the US influencers must declare when they are promoting products, as the FTC guide for social media influencers makes clear.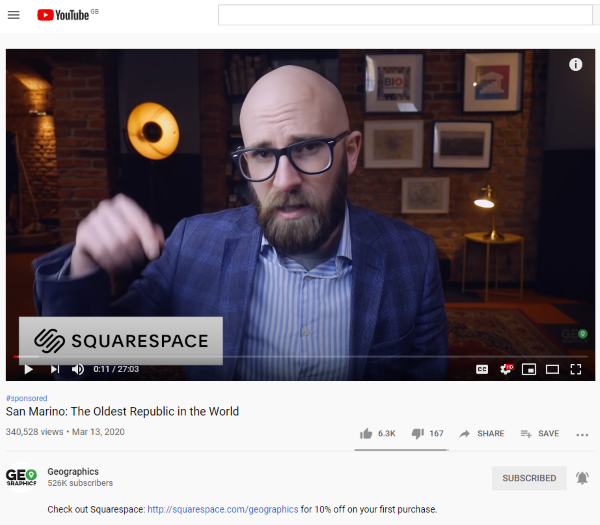 Influencers are sometimes also used as "the talent" in live stream shopping, which can be considered both a marketing channel (building awareness of the brand and its products) and a sales channel (actually selling product during the live stream). 
8. Re-targeting Marketing
Re-targeting is a marketing channel that attempts to re-engage with a prospective customer that has been to a website and shown interest in a product but has since left the site. It is distinct from banner advertising in that to be shown re-targeting ads, the visitor must have already been to the site of the business that is paying to show this marketing, whereas in banner advertising any visitor to the website can be shown the content.
If a known customer has placed an item in the ecommerce cart without buying it, a so-called "abandoned cart email" is a simple form of re-targeting. By emailing the customer a few hours to a few days later, the customer is encouraged to re-visit the site and complete their purchase, potentially with the addition of an incentive such as a discount coupon or code.
For other customers who have looked at products on an ecommerce site, they can be shown display advertisements for those same products when they later visit an unrelated website. This is enabled by dynamic re-targeting technology operated by companies such as Adroll and Criteo. These re-targeting companies contract with large numbers of ecommerce businesses as well as businesses looking to sell advertising space on their websites. By tracking visitors across these two types of website, advertisements can be shown on websites that are otherwise unrelated.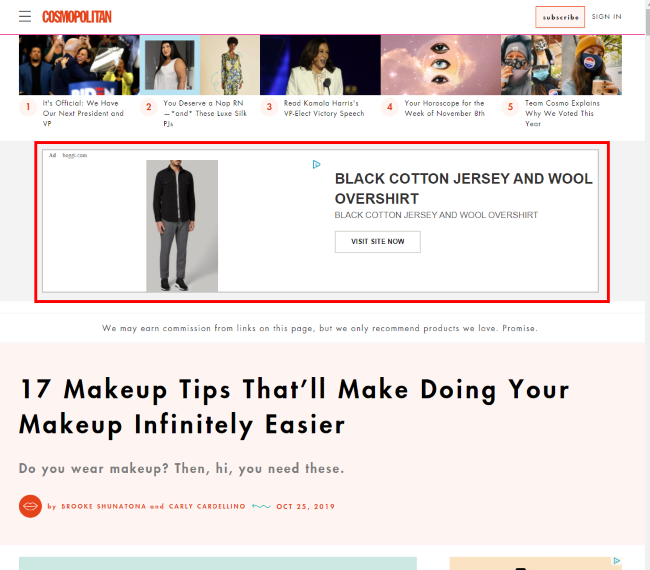 Concluding thoughts
The word "channel" has become pervasive throughout the ecommerce industry. It is important to understand that a channel can be a route to sell, or to build awareness and demand, or both. Familiarity with sales channels and marketing channels is required to help build a deeper understanding of the ecommerce industry.