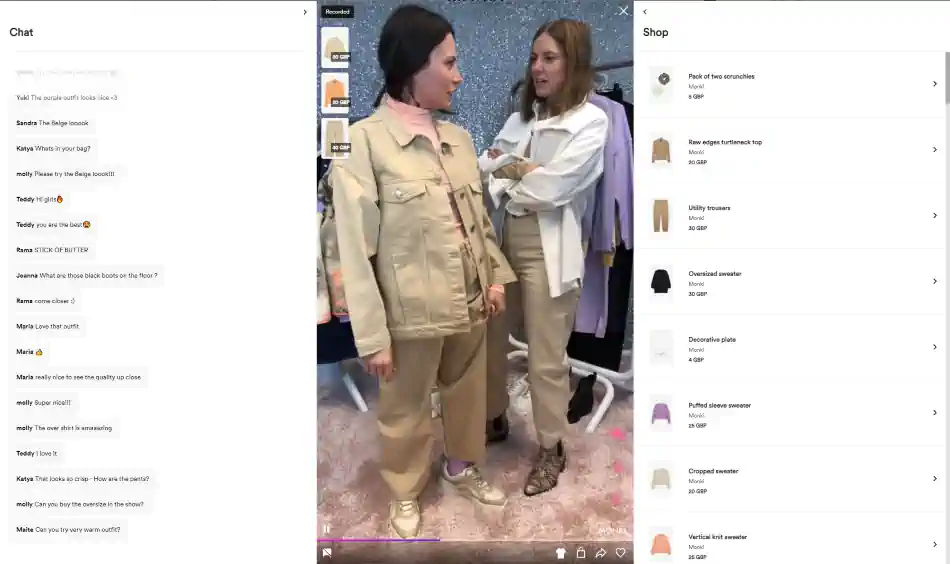 Live Stream Shopping - why it is important, how to get started
Live Stream Shopping is an established phenomenon in China, but relatively new in the US and the West. It is growing tremendously quickly and retailers and brands urgently need to understand it, why it is important and how to get started.
What is live stream shopping?
Live stream shopping is an ecommerce phenomenon where influencers with a strong social media following perform live shows to their audiences to promote products that viewers can buy from within the live stream App. Similar in concept to the TV shopping channels such as QVC, live stream shopping is more accessible to individual influencers, with a very low cost of entry and the potential to reach huge audiences.
Live stream shopping can be hosted by established consumer brands and retailers as well as individual influencers. The promotion of products in a social setting, where interactivity from the audience is encouraged, produces an intimate atmosphere similar to a Tupperware or Pampered Chef party, one where the audience are friends, fans or members of an exclusive group, where questions are raised and answered and the product demonstration and course of the event is influenced by the audience. Live stream shopping is consumed as entertainment, information and inspiration, as well as being a solid channel for driving ecommerce sales.
Live stream shopping in China
In May 2020, the State Council of China claimed 560m people in China now access live streams (62% of Internet users there) with 265m of these accessing ecommerce-enabled live streams. By September 2020, the CNNIC showed this number had reached 309m live stream shopping users, the highest growth rate among the categories of Internet use it tracks. Figures released by China's Ministry of Commerce in July 2020 show there were more than 10 million live ecommerce broadcasts in first half of 2020, with over 400,000 streamers, 20 million products on view and 50 billion views of these streams. The report describes live streaming as the "new engine for the development of e-commerce". In 2019 the industry was worth $66bn in China and Shanghai-based market researchers iResearch forecast this will double to $170bn in 2020. Alibaba's TaoBao Live is the most used platform for live stream shopping in China, with 80% market share, with Baidu, Douyin (TikTok) and JD.com being competitors.
Why is live stream shopping important?
Large audiences can be attracted to a live stream shopping event by promoting it through the existing digital and social media channels of the involved brands, hosts, celebrities and influencers who are to participate.
Top live streaming ecommerce "key opinion leaders" (KOL) in China, such as Jiaqi Li and Wei Ya (Viya), both have monthly views of over 800m for their streams. Such huge viewing figures encourage established brands to offer them products at heavy discounts, further increasing the appeal of these events.
Audiences are typically younger and more affluent than a typical ecommerce customer, exactly the demographic that many brands are trying to reach.
Albertsons announced in September 2021 that it has signed with live stream shopping platform Firework and plans to host events from its grocery stores.
Estée Lauder sold $300m through its livestreams around Singles Day, in October and November 2020.
Cartier attracted 770,000 viewers in two hours on Taobao Live on Singles Day November 11th, 2020 showing 400 pieces of jewelry including a necklace valued at over $28m.
H&M-owned Monki ran its first live stream shopping event in October 2019 featuring community project leader Eleonore Nygårds and assistant buyer Nina Gomes.
Lancôme ran a live stream shopping event in Canada in November 2020 with 46,000 attendees.
Macy's announced in October 2021 that its App now includes live stream shopping functionality.
Nordstrom launched a dedicated website for live stream shopping in March 2021, following 50 live stream events hosted in the previous 12 months.
Walmart ran its first live stream shopping event on TikTok in December 2020. In November 2021 it hosted its first live stream shopping event through Twitter and in December 2021 it announced it had integrated the Talkshoplive platform into its ecommerce API allowing all brands which sell through Walmart to access pre-integrated live stream shopping capabilities.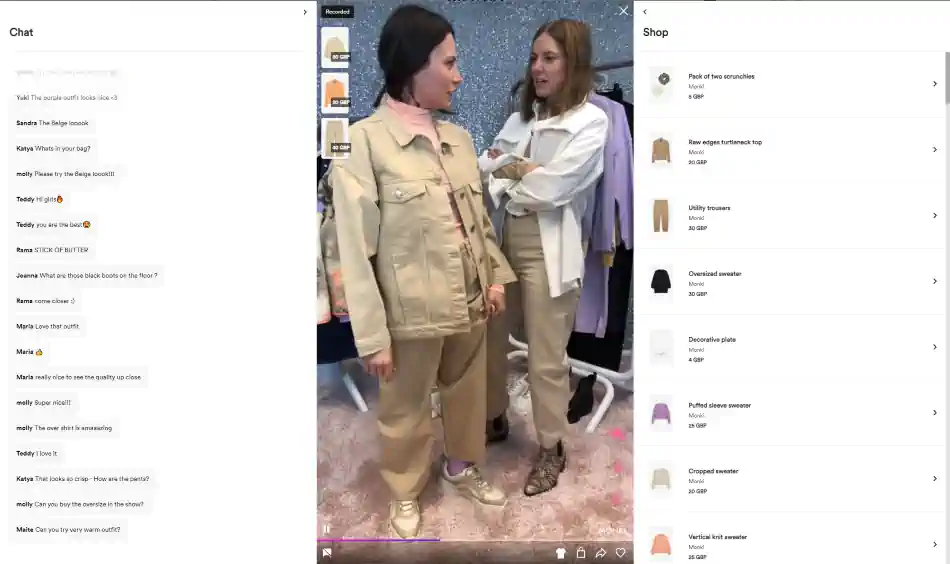 What platforms enable live stream shopping?
There are already many solid, proven live stream shopping technology platforms available, including niche solutions aimed solely at this purpose, ecommerce platforms that extend to video shopping, and the mainstream social networks providing ecommerce features on top of their streaming services.
Here are example platforms in each of these three categories:
Niche live stream shopping platforms

Ecommerce platforms and marketplaces with live stream shopping functionality

Amazon Live is a predictably popular option for live stream shopping, with a companion iOS App released in Feb 2019 to help content creators to stream from their phone or tablet
Shopify has an integration with TikTok.

Mainstream social networks incorporating live stream shopping

Facebook Live Shopping is a way to feature products during a Facebook Live session, either through the Facebook mobile App or via one of many partners who provide streaming integrations for Facebook. Products are added within the Facebook Shops feature. Facebook acquired video streaming company Packagd in 2019 as part of the development of this service.
Instagram Live Shopping is essentially the same service, but within the Facebook-owned Instagram platform. It enables a live stream to pin one product at a time to the stream from a pre-selected collection of up to 30 products. Products are added within the Instagram Shops feature where product data, prices and inventory can be managed.
TikTok has offered TikTok for Business since June 2020, where brands can use the platform to power a shopping experience. This requires a business to sign up with TikTok Ads Manager. Brands advertising on TikTok include Chipotle, Kroger and the NFL.
How to get started and get it right?
A retailer or brand looking to get started on live stream shopping has a number of actions to take in order to make the move and to test or take advantage of this trend. 
Choose the right platform
For a small scale pilot it is normally easier for a brand to set up a standalone platform for the live stream event rather than rely on making changes to its existing ecommerce App and web property. Once the format is proven, it will make more sense in the long term to integrate the capabilities in to the ecommerce infrastructure so that product and customer data, inventory and analytics are all seamless between channels.
Allocate media budget
There needs to be a budget both for the technical setup, for any external talent to be hired, and promotional activity to drive the audience to the event. Budget will normally be allocated from both brand and category/product and aligned to the goals of the event. What are the relative importance of the key drivers for the event - to build product awareness, brand recognition, for new customer acquisition or profit?
Cast the right talent
The live stream shopping event needs at least one host, and quite often two people who can hold a conversation, spark off each other and keep the show running. If the host or a guest has a large following of their own, then this is ideal for building the all-important audience.
Refine the creative brief
Thought needs to be given ahead of time to the creative brief, including fundamentals such as location, duration, format, seating and props, lighting, as well as a script. A balance between topics of pure interest and product features and demo is required. Events of thirty minutes duration are often ideal, to enable conversation between the guests, discussion of the products, and to enable sufficient content to engage customers, even those arriving late.
Choose the right products and price points
Products need to show well on a small screen - most of the audience will be watching on a smartphone. For small objects with a lot of detail, such as jewelry, specialist camera equipment and lighting will complicate the production process. Clothing needs to be possible to remove without getting naked in front of the camera. Products should have enough variety to keep attention, while have some theme to enable a good story to be told about the whole collection. Prices should represent good value, to encourage impulse purchase.
Choose the right markets
Much has been written about the success of live stream shopping in China, but success stories in other markets are growing rapidly. Choose markets where consumption of mobile video is high and ecommerce as a percentage of retail sales is also high. US and UK are two obvious examples. While ecommerce sales in Australia lags these two, it does represent another English-speaking market where ecommerce spend per adult is over US$1000 (compared to $1800 in US, $1600 in UK).
Re-purpose the output
Given the allocation of media budget for a live stream event may be significant, it makes sense afterwards for the brand to actively re-purpose the content produced. A simple replay of the event can be posted to the website or the brand's YouTube channel, selected clips can be posted to social media and shown on in-store displays, or used as part of the promotional activity to drive attendance at the next event.
Live stream shopping gone wrong
Ted Baker held a live stream shopping event that attracted criticism. Using the Bambuser technology, this British upper mid-market fashion brand with 560 stores in over twenty countries worldwide, broadcast a pre-recorded show with agents replying to live chat, but obviously no interaction with the show's hosts. This was quickly spotted by the audience and their displeasure made clear in the show's chat window.