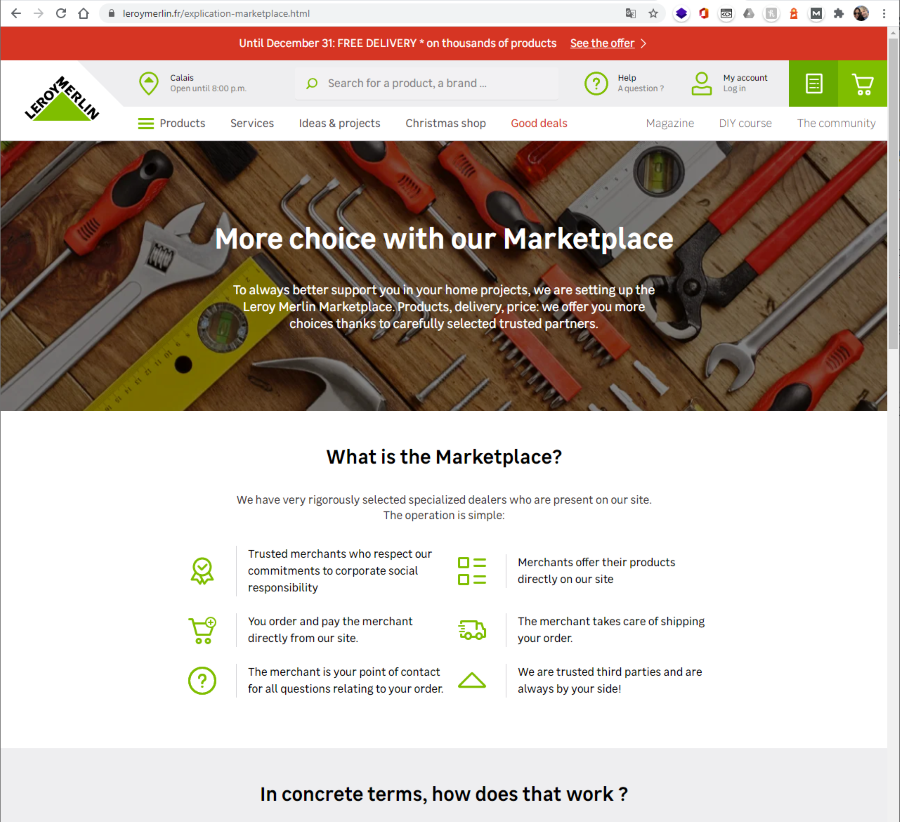 News - Mirakl powers the marketplace of Leroy Merlin
December 17, 2020. Mirakl has announced that its marketplace software is now being used by Leroy Merlin in that retailer's home country of France, having previously being tested in the competitive ecommerce market of Brazil. 
A marketplace, in ecommerce terminology, is the presentation of products from multiple sellers through a single website, in this case leroymerlin.fr, which Mirakl claims is the fifth most visited French ecommerce site. Sales collateral produced by Leroy Merlin shows it has 10.5m unique visitors per month. There is a Eur 39 per month seller fee, plus commission due on each sale.
Olivier Corbin, director of Fabrik, the back office of the omnichannel business at Leroy Merlin, explains the current Eur 600m online sales of Leroy Merlin is targeted for a 3x growth over the next three years. He explains they are on track to achieve 170 merchants and 170,000 products on the webstore by the end of 2020. This compares to 40-60,000 products in a typical Leroy Merlin physical store. By the end of 2021 the ambition is 700 sellers and 400,000 products. This compares to its home improvement competitor, ManoMano, an online DIY specialist launched in 2013, which last year boasted 1800 merchants and 3 million products and in 2020 is on track for sales of one billion euros.
Leroy Merlin is a home improvement and gardening retailer, founded in 1923 with stores in several countries in Europe, Asia, South America, and Africa. It is the largest of the significant Groupe Adeo companies. According to the European DIY Retail Association (EDRA), the French DIY market was worth Eur 28bn in 2019, with Leroy Merlin's share being 37%, with Castorama at 14 per cent and Brico Dépôt at 13 per cent.
Mirakl is a member of our ecommerce platform shortlist, a provider of ecommerce marketplace software.