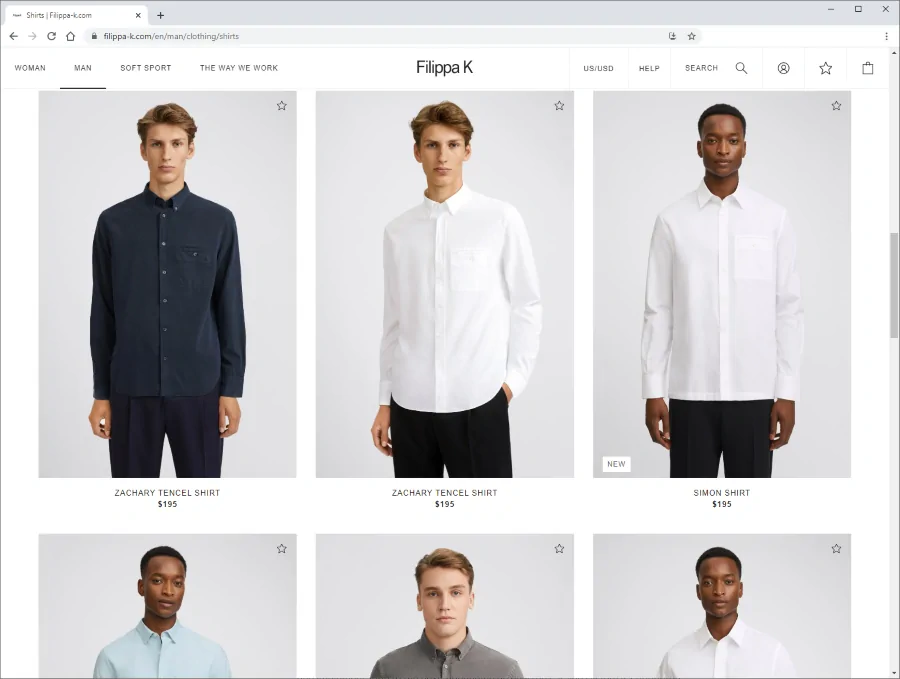 Episerver Commerce Cloud features and customers
Episerver Commerce Cloud is an ecommerce platform with customers including Benefit Cosmetics, New Era and fashion brand Filippa K. Episerver modestly describes its Commerce Cloud offering as "the most complete commerce suite for growing companies". This article examines this product in more depth.
What is Episerver and how does Optimizely fit in?
Episerver is a content management systems (CMS) (a.k.a. Digital Experience Platform (DXP)) software vendor. It acquired a niche B2B ecommerce software vendor Insite Software (and their InsiteCommerce product, founded in 2004) in 2019 but this is different to the Commerce Cloud platform which fits much more closely with the core Episerver DXP. Episerver recently acquired Optimizely and then decided to rebrand as Optimizely from Sep 2021, giving them a more globally recognized brand name from which to operate.
Episerver was founded, and has its spiritual headquarters, in Stockholm, Sweden although its LinkedIn page now describes this as its European headquarters and lists Nashua, NH (some 45 miles from downtown Boston) as its global HQ, which was the head office of Ektron, the CMS business that Episerver acquired in 2015 to gain a North American customer base.
What is Episerver Commerce Cloud?
Episerver Commerce Cloud is an ecommerce platform capable of driving B2C and B2B ecommerce stores. The product can be deployed headless. The product catalog supports styles, multi-attribute variants and SKUs, bundles and accessories. Price catalogs can be defined as well as discounts, promotions and campaigns, and definable exclusions. Subscription orders can be captured and processed in a basic way. Inventory can be managed within the platform at a SKU level. There is a search engine supporting filters and facets and an in-built ratings and reviews system. The product offers a very basic order management system. B2B features include a basic organization and contact hierarchy.
Technically, the product is built with the .NET Framework and Microsoft Windows Communication Foundation. There is a set of REST APIs covering the major functionality of the platform, to enable application integration using OWIN authentication and ASP.NET identity. A typical developer environment includes Microsoft Visual Studio with the Episerver CMS Visual Studio Extension installed with LocalDB and IIS Express.
Who uses Episerver Commerce Cloud?
Customers for Episerver Commerce Cloud include Benefit Cosmetics (worldwide), New Era (in EMEA) and Swedish fashion brand Filippa K (42 countries).
Benefit Cosmetics
Benefit Cosmetics recently relaunched many of its country sites on Episerver Commerce Cloud.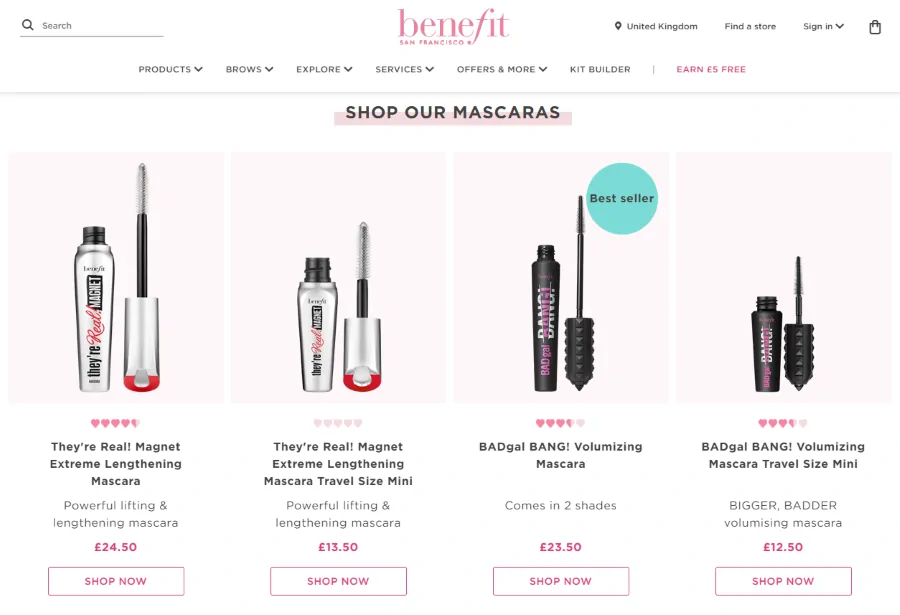 See the link below for a specific article on this implementation.
Article: Benefit Cosmetics on Episerver Commerce Cloud
New Era
New Era describes itself as the "number one headwear brand in the world and one that spans the worlds of sport, fashion, music and entertainment". It was founded in 1920 by German immigrant Ehrhardt Koch in Buffalo, NY. New Era runs its US webstore on SAP Commerce Cloud, one of the dominant ecommerce platforms among big global brands. For EMEA, the decision was taken to implement a different platform and Episerver Commerce Cloud was chosen for this region. This decision might have been a financial one, given the reputation SAP has for enthusiastic pricing of their commerce platform.
The EMEA platform launched with 11,000 SKUs in 2016 and within 4 months had improved conversion rate by 64%. Today it supports 42 European markets in 5 languages and two currencies (EUR and GBP). As usual with ecommerce implementations the site was integrated with many other systems, in this case including SAP for inventory, IBM Marketing Cloud for offers, campaigns and cart abandonment, SagePay as the payment service provider (PSP), plus PayPal, and MotionPoint for translations.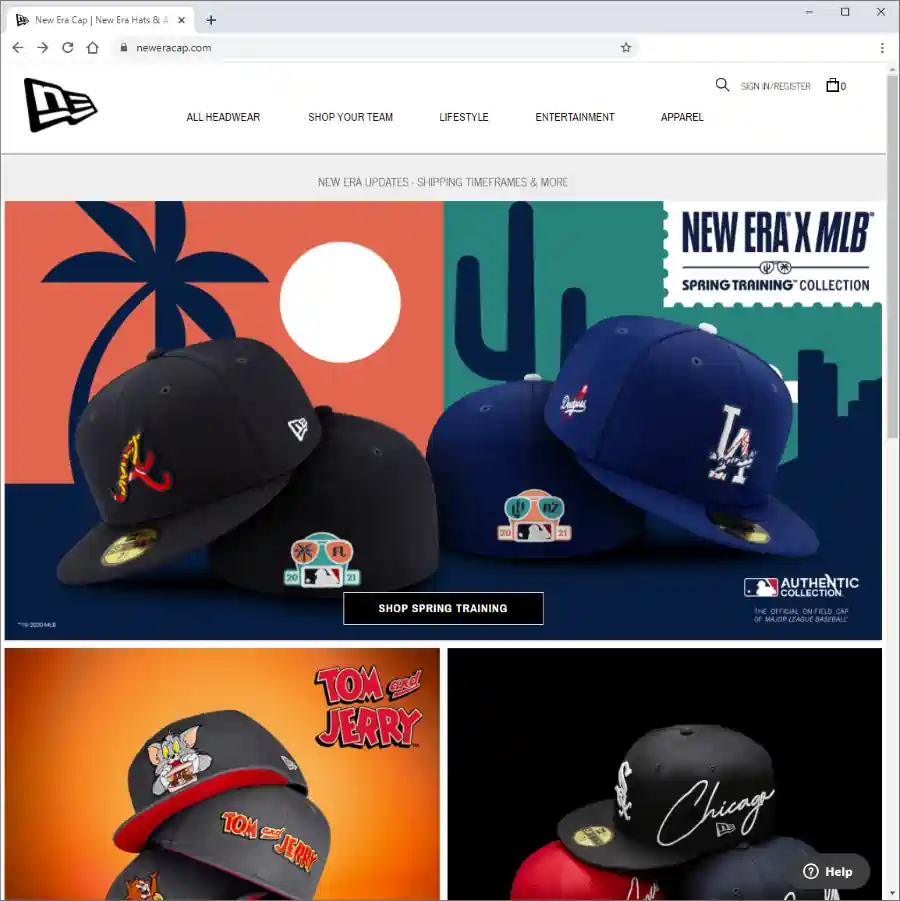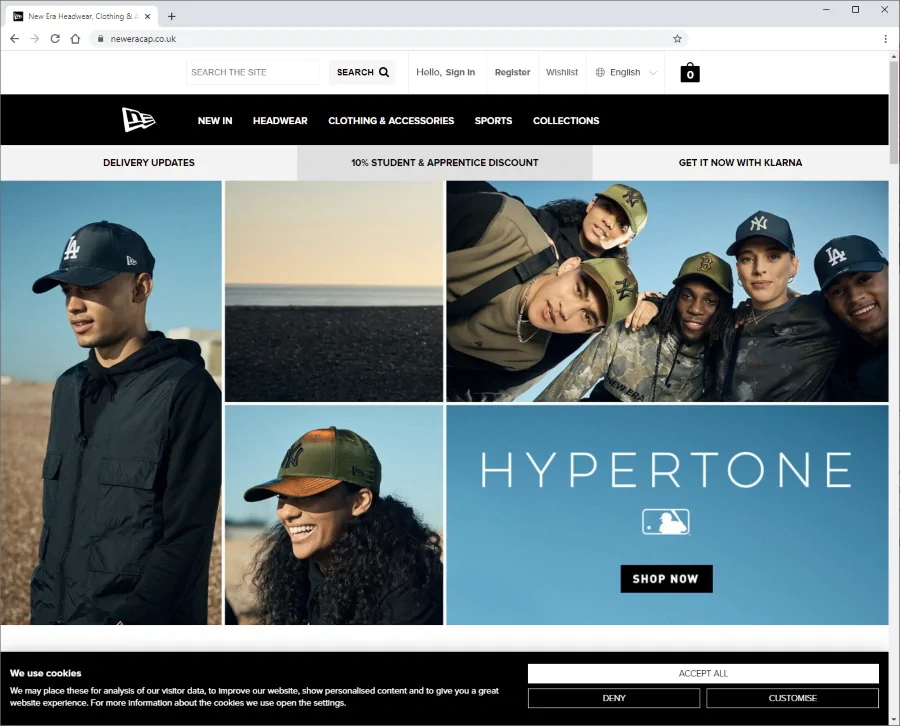 Filippa K
Filippa K is one of Sweden's top brands, a fashion brand, founded in 1983, designing and manufacturing high quality, much loved clothes. The implementation of its ecommerce store based on Episerver Commerce Cloud took under 5 months from design to going live and came in under budget. Its ecommerce store operates in 70 markets globally. 75% of traffic is from mobile devices and the storefront is built as a progressive web app.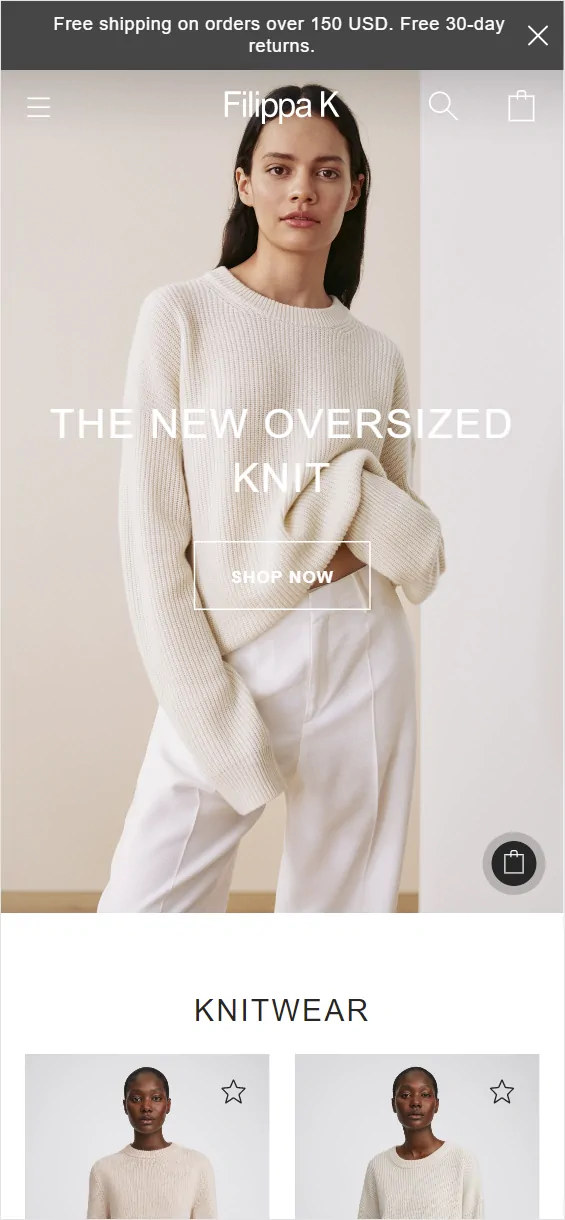 Mikael Björklund, Chief Operating Officer of Filippa K at the time of the platform launch, now Group Chief Digital & Information Officer at Polestar, the electric car brand, commented at the time that the Episerver platform was chosen after a significant selection process that eliminated many of the arguably more popular ecommerce platforms.
Reyes Beer Division
Reyes Beer Division, formerly Reyes Beverage Group, part of Reyes Holdings, is a collection of beer distribution companies, including Chicago Beverage Systems, Lee Distributors, Florida Distributing Company and Gold Coast Distributing.
Its online ordering capabilities are provided by Episerver Commerce Cloud at its beerline.com website, only available to licensed customers, in English and Spanish.
The beerline website allows customers to view live inventory, pricing & promotions, place orders for beer as well as for service and shop signs, access historical invoices, view sales analytics and interact with their account manager.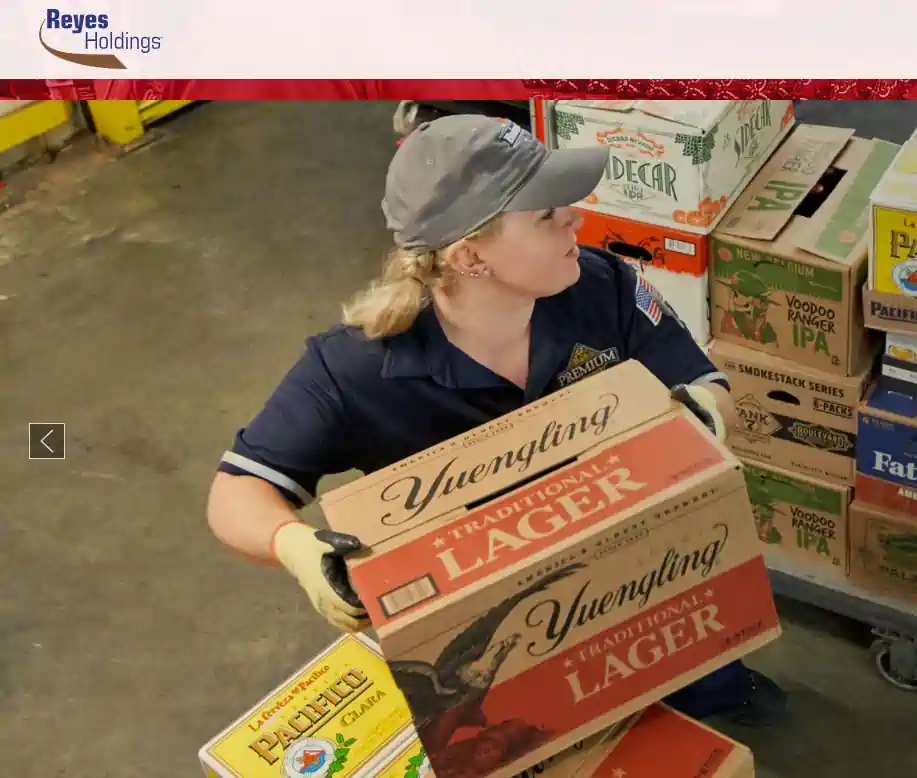 The Granite Group
The Granite Group is a New England distributor of plumbing, heating, cooling and water supplies. Its online, B2B, store is powered by an old version of InsiteCommerce (now known as Episerver B2B Commerce Cloud), NOT by Episerver Commerce Cloud.