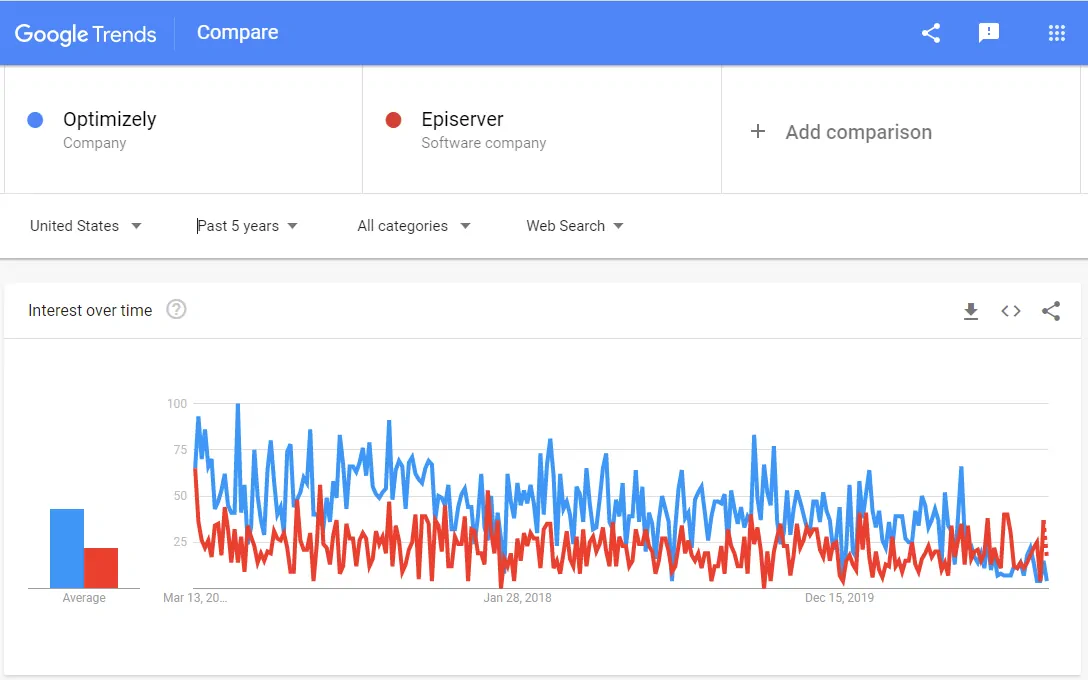 Optimizely / Episerver - Company & Product Analysis
Optimizely, the name that Episerver will adopt from September 2021, is a software company whose products include a content management system (CMS), two ecommerce platforms and an A/B testing suite.


History
The foundations of Optimizely were created in Stockholm, Sweden, where the company still retains an office. EPiServer was the name of the content management system developed by Elektropost Stockholm AB and launched in 1997. EPiServer as a product evolved over several years, building on the Microsoft .NET framework.
In 2006 the company changed its name to EPiServer and in 2014, EPiServer was acquired by Accel-KKR which had also bought the CMS platform company Ektron, based in Nashua, NH, a short drive from Boston, MA. With EPiServer strong in Europe and most Ektron customers in North America, Accel-KKR combined their management teams in January 2015 with the aim of creating a global CMS leader. Between them, at that time, the merged companies had 8,800 customers in 30 countries with 30,000 websites built on their technologies. The company adopted the Ektron offices in New Hampshire as its global headquarters with the Stockholm office its principle European base. Later in 2015 EPiServer rebranded its name as Episerver.
In September 2020, Episerver announced it was to acquire Optimizely (which completed in October 2020) and it will rebrand as Optimizely in 2021, giving it a more globally recognizable brand name.
Over the past five years, Google Trends identifies Optimizely as the more recognizable search term in the US, although curiously this has declined noticeably since the end of August 2020. Given the timing of this coincides with the acquisition announcement, this could be due to some recategorization of search traffic by Google, although there is no parallel uptick in interest for Episerver.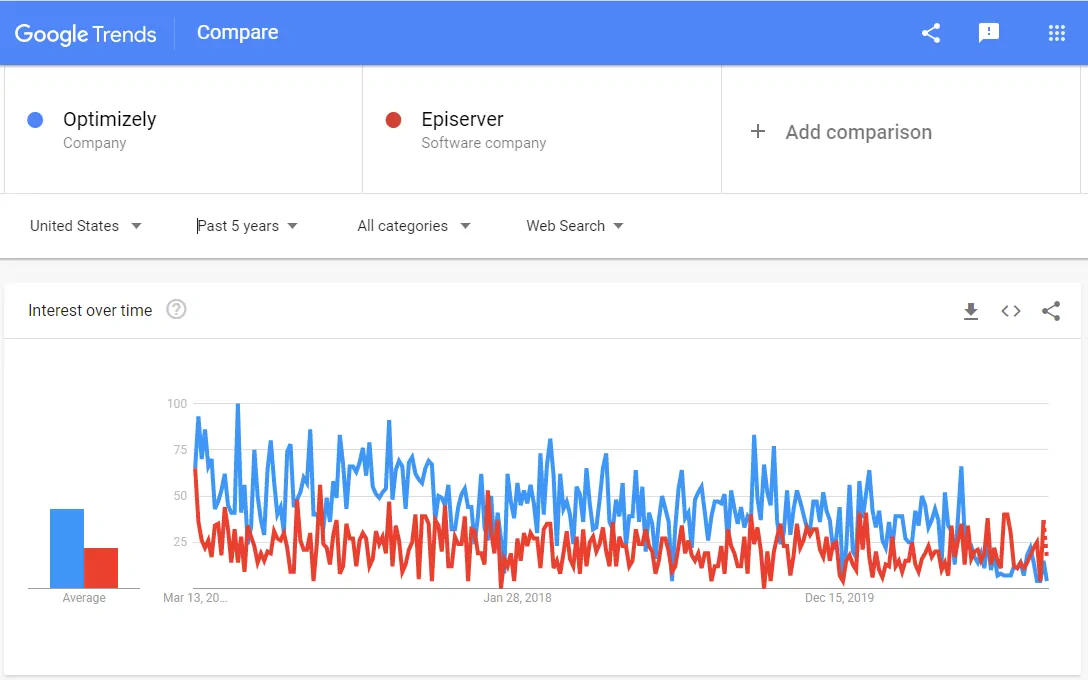 Ownership
Today, Episerver / Optimizely is owned by Insight Venture Partners following a $1.16bn acquisition in 2018. This private equity business also has investments in Automattic (WordPress CMS), Bynder (Digital Asset Management), checkout.com (ecommerce platform), Commercetools (ecommerce platform) and Fanatics (retailer), and in the past had investments in Shopify and Wix.
Mergers and Acquisitions
In September 2015, Episerver acquired Episerver Research and Development Ltd., its outsourced software R&D partner in Hanoi, Vietnam.
In August 2016, Episerver acquired Peerius, a product recommendations engine company based in the UK, now part of the Episerver Intelligence Cloud product.
In November 2019, Episerver acquired Idio, an AI software company focused on content insight, which is also now part of Episerver Intelligence Cloud. At the time of the Idio acquisition, Episerver CMO, Kirsten Allegri Williams, commented that Episerver and Idio shared 32 customers.
In December 2019, Episerver acquired Insite Software, whose B2B ecommerce platform, InsiteCommerce, is now branded Episerver B2B Commerce Cloud.
In October 2020, Episerver acquired Optimizely, an A/B testing and experimentation software provider.
Products
Optimizely Full Stack
Full Stack is the flagship A/B Testing and experimentation product offered by Optimizely. It allows product engineering teams to test new releases of software to small audiences to assess the results before releasing to the full customer base. In this way, ecommerce business teams can learn what changes result in positive changes in customer behavior, and avoid releasing those that cause a drop in conversion rate, basket size or site engagement metrics.
Optimizely Full Stack is integrated into an ecommerce build through a number of SDKs each designed for a popular language, such as C#, Go, Java, NodeJS, PHP, Python, React, and Ruby. The SDK for C#, as an example, is 293kB in size and available from Nuget. Full Stack can be used to build experiments into software of any type, not just website code.
Optimizely Full Stack enables customers to perform their experiments against an appropriate sample size, to schedule testing, to see highlighted, statistically relevant results and implement the winning feature(s) or combination.
Optimizely Web
Optimizely Web uses the same statistical, analytical and experimentation engines as Full Stack, but through a simplified, web-only user interface, to control website A/B testing and multivariate testing.
Optimizely Rollouts
Optimizely Rollouts is a free version of Optimizely Full Stack, offered with some feature limitations, the ability to run only one experiment at any one time, a limit of 10 collaborators working together and a limit of 100,000 monthly active users (MAU) using the software in which the experiment is being run.
Optimizely Rollouts Plus, a simple paid for version, slightly upgrades this experience and adds Jira integration, single sign-on, email support tickets, and a bump to 500,000 MAU and 20 collaborators.
Episerver Content Cloud
Episerver Content Cloud is the core Episerver content management system, hosted in Microsoft Azure and accessible to multiple business users for content collaboration publication and control. The content authored and managed within the CMS is all available via APIs which means it can be deployed in a headless manner, serving the needs of public-facing websites, webstores, Intranets and any other software with the ability to consume its APIs.
The product is designed to be comprehensive and easy-to-use, with built-in features for content authoring (including extensive use of WYSIWYG editing, multiple device previews, e.g. iPhone, iPad, desktop), project collaboration and approval workflows, layout design, search & navigation including faceted navigation, and basic media management. There is extensive help and documentation available within the product and through a web portal.
The Content Cloud includes the concept of visitor groups which can be targeted with particular content for personalization, and the product includes simple A/B testing without having to deploy the more comprehensive Optimizely Full Stack offering.
Episerver Commerce Cloud
Episerver Commerce Cloud is a mid-range B2C-focussed ecommerce platform with some limited B2B features. The product can be deployed headless. The product catalog supports styles, multi-attribute variants and SKUs, bundles and accessories. Price catalogs can be defined as well as discounts, promotions and campaigns, and definable exclusions. Subscription orders can be captured and processed in a basic way. Inventory can be managed within the platform at a SKU level. There is a built-in search engine supporting filters and facets and an in-built ratings and reviews system. The product offers a limited order management system. B2B features include a basic organization and contact hierarchy.
Read More : Episerver Commerce Cloud features and customers
Episerver B2B Commerce Cloud
Episerver B2B Commerce Cloud is based on the acquisition of Insite Software and their InsiteCommerce B2B ecommerce platform. This is a mid-range ecommerce platform aimed at B2B customers designed to be implemented primarily through configuration, aiming to deliver implementations more quickly at lower cost than would be required with extensive customization. Key B2B features are available out of the box. It includes the concept of customer accounts with multiple users with different permissions for different roles, such as administrator and buyer. There is an optional order approval workflow, product lists can be created and shared, and budgets can be set and enforced by customers. There is a reasonably full featured search engine which includes configuration of synonyms, stop words, redirects, product and brand boosting, etc. There is an integrated email engine. The CMS allows live editing of pages and templates. There is a PIM module to handle product data and images. The mobile App allows catalog browsing, order placement and order history viewing.
Episerver B2B Commerce Cloud will be renamed Optimizely B2B Commerce Cloud when the corporate rebrand is complete. It continues to be developed independently of Episerver Commerce Cloud.
Episerver Intelligence Cloud
Episerver Intelligence Cloud, based on the assets of the acquired Idio business, provides AI tools for managing content, specifically helping website owners to serve relevant content to visitors, and to track keywords and topics which are of most interest to visitors. The Intelligence Cloud also includes the former assets of acquired business Peerius that provides product recommendations for ecommerce stores and email campaigns.
Episerver Digital Experience Platform
The Episerver Digital Experience Platform (DXP) is the combination of Episerver Content Cloud, Episerver Commerce Cloud and Episerver Intelligence Cloud. The term is used to describe the overall aim of the Optimizely products - to deliver intelligent, personalized digital experiences across multiple owned channels to customers and visitors. Episerver DXP is used somewhat interchangeably with the terms Episerver Content Cloud or, more loosely, the Episerver CMS.
Each DXP product is cloud-based, requiring customers to have no server infrastructure on which to host it.
Ektron
The Ektron CMS is still maintained and supported for customers from that acquisition, but customers are steered by Optimizely towards the DXP platform for new deployments. Indeed, Optimizely worked with Forrester to create in May 2020 a Total Economic Impact report to illustrate the ROI of existing Ektron customers moving to the flagship product. In a blog post Optimizely cites reasons for Ektron customers to move to Episerver DXP, including that DXP is a cloud platform not on-premises, that DXP is built using more modern technology (ASP.NET MVC) compared to Ektron (ASP.NET Web Forms), a more advanced ecommerce capability with the Episerver Commerce Cloud, more advanced personalization features in DXP and the WYSIWYG content editing and preview features within DXP.
Zaius CDP
In March 2021, Episerver announced it had acquired the Boston-based customer data platform Zaius.
Customers
Optimizely has over 8,000 customers covering a wide range of industries, mostly in the mid-range to enterprise tiers.
Its CMS customers have a heavy concentration in Europe and include Bank of Cyprus, The Student Hotel (NL), Metropolitan Police Service (UK), Xerox, Florida Division of Emergency Management and American Academy of Neurology.
Its commerce customers include B2B businesses, brands and retailers, such as Electrolux, Polaris Industries, Indian Motorcycle, Toyota New Zealand, Toppers Pizza, SRAM, Benefit Cosmetics, Filippa K and New Era hats (international sites).
Management team
The management team of Optimizely includes:
Former employees of Optimizely / Episerver include:
Per Ivansson, chief technology officer until Feb 2019, who now works for Monterro, a Nordics investment company specializing in software companies.
Jason LoSchiavo, Account Manager until August 2016, who now works as Regional VP of Sales at Sitecore, the CMS software competitor to Optimizely.
Ryan Brasiskis, Enterprise Account Executive until 2017, who now works as VP Sales, Americas, at CoreMedia, another CMS competitor to Optimizely.
Offices
Optimizely global headquarters are the former location of Ektron head office in Nashua, NH, a 50 mile drive from downtown Boston, MA.
Optimizely European headquarters are in Episerver's spiritual home of Stockholm, Sweden, not far from the Swedish offices of software companies SAP and Blue Yonder (JDA).
Optimizely also has US offices in Chicago, IL, Minneapolis, MN (the former home of its acquisition Insite Software). Its New York City, NY and Washington, DC, offices have closed. It has three further offices in Sweden as well as seven offices in the rest of Europe including London, Berlin and Copenhagen, plus South Africa, Sydney, Australia and Singapore. Its Hanoi, Vietnam-based office is the result of its 2015 acquisition of its former outsourced software development partner, at which time it had 40 employees in software development and quality assurance.
At the time of writing several of the above offices are closed to employees with remote working in place and no news on predicted dates of re-opening.
Jobs
At time of writing, Optimizely had job openings in several roles and locations.
Customer Success - roles working with customer to implement the Optimizely technologies, based in Nashua, Stockholm, Amsterdam, Berlin, London and Hanoi. The roles are predominately for project managers, business analysts and customer success managers.
Engineering - roles developing the core software products are based in Hanoi, Stockholm and Berlin, plus Nashua and Minneapolis and Austin. The roles include software developers (front-end, back-end and iOS), data scientists and management roles associated with software engineering.
The job descriptions for the more technical, engineering type roles specify technologies including:
Languages & frameworks: Python, Django, Java, Golang, JavaScript
DevOps: Docker, Jenkins, CircleCI, Linux
Data: Hadoop, Samza, Spark, HBase, SQL databases, Postgres, Redis
Search: Elasticsearch
Cloud platforms: Amazon Web Services (AWS), Google Cloud Platform (GCP)
Competitors
Optimizely has a relatively broad product offering and therefore has many competitors in each of its software categories.
CMS competitors include Acquia, Adobe, Bloomreach, CoreMedia, OpenText, SDL Tridion and Sitecore.
eCommerce platform competitors include Adobe (Magento), BigCommerce, Commercetools, Elastic Path, Kibo Commerce, Salesforce B2C Commerce, Shopify, Sitecore, and VTEX.
Further Reading
Read More : Articles featuring Episerver / Optimizely